Local historian, Kate Taylor, gave a fascinating talk on 'Crimes in Crofton and close by' on Monday March 21st.
Using examples from several centuries she described how, through the ages, most murders have been caused by excessive drink and family arguments - which still seems to be the case today. And despite our impression of the Victorian Age as being 'tough on crime' Kate's research showed that sentences were much more lenient then.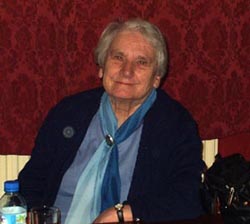 She had some copies of her recent book "Foul Deeds and Suspicious Deaths" which were snapped up by members of the audience. At Kate's request a donation was made to the Friends of Chantry Chapel. We were delighted to learn that Kate would be among those receiving the Maundy money from Her Majesty Queen Elizabeth at Wakefield Cathedral on Thursday 24th March. Not only is she a well-known local historian but she is also a prominent member of the Unitarian Chapel. She admitted that she was practising her curtsey and had splashed out on a hat!

The turnout on April 18th was very disappointing but Claire Sharp, from the Twixt Aire & Calder digitisation project, didn't seem to mind.

She told us that the project started back in 1998 when Wakefield libraries decided to put their collection of photographs, with some text, on-line. These words and images could then be used by anyone with access to the internet. A website was created with a name to describe the geographical area – Twixt Aire and Calder. People researching family history, schools doing local history projects and members of the public simply interested in how Wakefield used to be, have all found this facility useful and illuminating.

While some areas had literally thousands of old photographs to offer others had very few. If you look at Crofton we think you will

be rather disappointed. Just check out the website and see.

But we all know there are hundreds of photos of old Crofton – people and places – you only need to look at the Photographic History published in 2000 for confirmation!

We had a display of some of the pictures we have been collecting and Claire would love to add them, with accompanying words, to the site. If you supplied photos for the first book, or have loaned any for a future publication, and you would like to have them included on the website, just ring Balne Lane Library on 01924 – 304270 and ask for Claire, or e-mail:-

library_digitisation@wakefield.gov.uk .

If the photographs are ones you have taken yourself then all you need to do is send them along with permission (on a specially prepared form) for them to be used. If they are postcards, studio or newspaper photographs then Claire may need to get permission from the original owners; you can contact her at Balne Lane library for more information.

And just to show how world-wide the web is, we had an e-mail from Janette Bower in Australia who had been evacuated to Crofton during the war. She looked for the History of Crofton and found the village website

Gareth Williams, House and Collections Manager at Nostell Priory, gave a most enjoyable talk and slide-show presentation at our May meeting. While telling us about the history of the House and its occupants he showed pictures of various rooms, including close-ups of several paintings and pieces of furniture.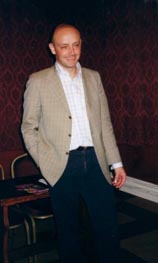 He went on to detail some of the plans for the estate, particularly the renovation of the Obelisk Lodge house and the eventual restoration of the grounds to 1850s parkland.
He then invited Crofton residents to help with the creation of an exhibition in 2007 …. "Meet the Neighbours!". He hopes people will contact him with memories, anecdotes or pictures of times when they (or their ancestors) were involved with the Winn family of Nostell. Gareth is particularly interested in reminiscences from people who lived in New Crofton (The Lump) and worked in Nostell Colliery.