Test for Patrick
This is a test page.
Crofton Open Gardens 2014
Crofton Open Gardens Needs You!
We are planning to hold the third Open Gardens event in Crofton on the afternoon of Sunday June 29th.
The last 2 were very successful and we would like the 2014 one to be just as successful or even more so.
So come on and get involved and help make Crofton a better community.
If you are interested in your garden being open on that day for folks to wander around, you will need to be available in your garden from 1pm to 5pm to act as host.
For more information please contact Richard Sellens on 863929.
Memories of Crofton
A new book for, by and about the people of Crofton.
Sponsored by WMDC Community Chest.
Cost £5-00
Launched in May 2013 and still available for sale at New Crofton Post Office and Sainsbury's Local.
Blue Plaque to Richmal Mangnall
March 7th, the anniversary of Richmal Mangnall's birthday in 1769, was the day for officially unveiling and fixing a Civic Society blue plaque. The Mayor of Wakefield, the president of the Civic Society, parish and district councillors, staff and pupils from Crofton Academy, representatives of the groups that had made financial contributions and guests from Crofton and a bit further afield, gathered in the Young People's Centre on the High Street.
John Goodchild had created a display of archive material for Miss Mangnall including a copy of her book 'Historical and Miscellaneous Questions for the Use of Young People' (1789).
After tea, coffee, cake and biscuits president of the Civic Society, Kevin Trickett said a few words about blue plaques, Chris Butcher talked about Miss Mangnall then the Mayor pulled the chord and opened the blue curtains.
Council workers fixed the plaque to the outside wall of the Young People's Centre, there for all to see.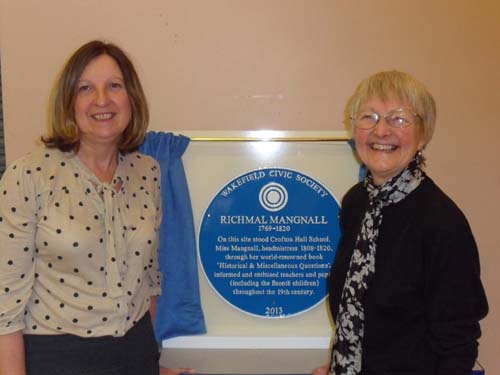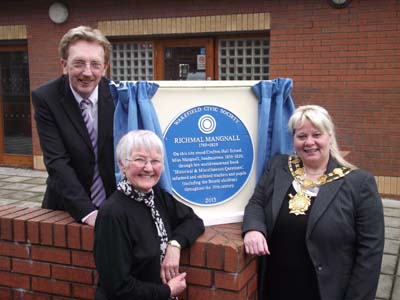 HS2 RAIL LINK - LONDON TO LEEDS
The announcement made 28th January 2013 for phase 2 of the rail link shows the the proposed route running from Cold Hiendley then between Haw Park Wood and Anglers Country Park, passing within around 100 metres of the Ashdene estate and crossing Doncaster Road in Crofton near to the Crofton Arms.
Download the official map here.
It is a 15MB file.