Rev. John Taylor
After more than 6 years in Crofton, John Taylor is leaving. Find out more in the News section on the All Saints'Church pages.
Bonfire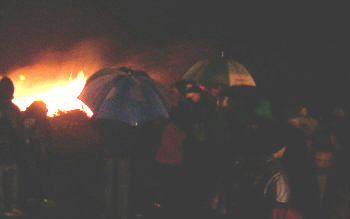 Rain, what rain?
I don't know how they did it, but the downpour didn't seem to affect the Scouts Bonfire Night celebrations on Saturday 2nd November. The rain had no effect on the fire or the fireworks that were enjoyed by the hundreds of people who went along. A stunning explosion of patterns and colours lit the sky in a way that could never be achieved in the back garden. The fifteen minute display was full of surprises like the "Catherine wheels" that spun high into the sky and the multi coloured "star bursts". No one in the village could fail to have seen the finale: the explosions must have rocked the foundations and lit the night sky.
Why not visit the diary section and find out what's going on?
This site is updated regularly. Click here to find the latest changes.
Missed the news? We are archiving our news here.
All Souls Service
There was standing room only at an all Souls Service held in All Saints Church on Sunday 3rd November. Those who have been grieving for someone they love, who has died in the last two years, were invited to join anyone else who was interested, in a beautiful Service of thanksgiving for the lives of loved ones. Find out more in the News section on the All Saints' web site.
Halloween
Witches, vampires, mummies (of all types) and monsters were out and about the village on Halloween and especially so at the Guides meeting during Halloween week. Rainbows, Brownies and Guides got together for an evening of ghoulish fun, monstrous food and spooky darkness. All enjoyed lots of games, dancing and competitions for the best food and clothing.
Web site
Thanks to everyone who has visited the new village website, making it a success and also to those who have sent ideas, comments and good wishes. The number of visitors has far exceeded our expectations.
The readership goes way beyond the boundary of the village. Feedback has been received from ex-Crofton residents who live as far away as Australia, New Zealand and Canada!

Have you entered our competition yet? All the answers are on the site. Just send us the answers to the questions and you could be the winner of our £15 HMV voucher. Click here for more information.
Click here to read news from the Wakefield Express.