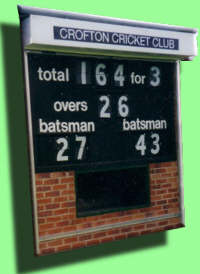 Crofton Cricket Club
We are a friendly club offering enjoyable but competitive village cricket to the people of Crofton. We know from historical records that Crofton had a cricket team playing friendly matches around the country as early as 1890. We also know that a team played on a field behind Rogerson's farm in the 1930's and there are still a few surviving members. The present club was reformed in the late 1960's and began league cricket again in 1969.
We began in the Wakefield Workshops League before joining the West Riding League in 1971. The club enjoyed cup success in the seventies and eighties and finally won the league title in 1996. At this point the club moved up to the Pontefract Section of the Yorkshire Council and began in division three in 1997. We won the third division at our first attempt and after some near misses finally made it into division one in 1999. Our last three seasons have all been in the top division and we have improved our league position every year.
We also run a second eleven who play competitive cricket and provide our junior players with their first taste of senior cricket and hopefully prepare them for the first team. We currently run an under 15 team.
In the past our club have produced some excellent cricketers who have done great things in the top semi professional leagues in Yorkshire. We have also produced one County Cricketer in fast bowler John Wood.
Whatever your age, if you are interested in playing cricket then we would like to hear from you.
As we have already said, we are a friendly club and welcome new members with open arms.
Some contact numbers:
Tracy Shepherd ( Chairman ) 865598

Richard Harrison ( Treasurer) 863057

Martin Hobbs ( Secretary ) 868064