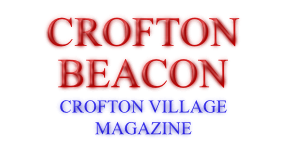 CROFTON BEACON is the community news magazine for the people of Crofton.
The first edition of the monthly magazine CROFTON BEACON was published in January 2013.
Independent of any other organisation
Produced and distributed by volunteers
Surplus funds donated to charity
Delivered to your home in Crofton for &pound3 per year
Also available from New Crofton Post Office, High Street Post Office, Ashdene Stores, Sainsbury's Local and Crofton Indian Restaurant at 30p per month.
The deadline for information to be included in CROFTON BEACON is the 16th of each month for publication the following month. Please send information by email.
Adverts in CROFTON BEACON for goods/services are the sole responsibility of the particular advertiser and CROFTON BEACON cannot accept liability for any matters arising from adverts. The presence of an advert or "For Sale" is not in any way a recommendation and readers must carry out their own checks as to the suitability of the goods and/or the provider of the goods/services.
Articles submitted to CROFTON BEACON are subject to editing and whilst we take reasonable care to avoid errors, CROFTON BEACON cannot accept liability for any errors or omissions made by the team or individual contributors to the magazine.
The views expressed in CROFTON BEACON are not necessarily those of the team.
Personal Announcements
We are pleased to receive announcements (in writing) but we must have a contact name, address and telephone number (including ones by e-mail) otherwise they will not be included. This service is free to all Crofton residents but please keep your message brief. We reserve the right to edit text and we are unable to guarantee that every message will be included. Please send announcements to us by the deadline date. Thank you, Christine, Richard and Nick.