CROFTON VILLAGE
Crofton is a commuter village of some 2,500 houses located three miles to the south of Wakefield, West Yorkshire. Close to the M1, A1 and M62 motorways, it is 25 minutes drive to Leeds, 30 minutes to Sheffield, 60 minutes to Manchester and 60 minutes to Hull.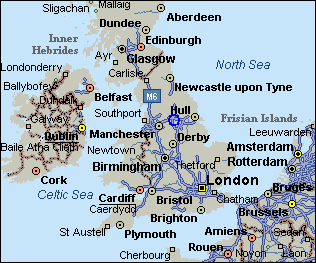 Surrounded by open countryside, the village has a comprehensive selection of local services. As well as a modern health centre and library there are numerous shops including two post offices, several village supermarkets and 6 pubs. In addition there is a village community centre and a Working Men's Club. There is a large sports field (cricket, rugby and football) within the village, and a number of country parks/walks within walking distance of the village.
Crofton has a recently rebuilt secondary school, two primary schools and two infant schools serving pre-school to GCSE level.
It is in the Hemsworth parliamentary constituency and has a Parish Council.
The village has had a mining history but has not seen stagnation as a result of the decline in this industry. In fact, the village has expanded considerably over the last 40 years with the housing being approximately 25% pre 1960, 50% 1960-1970, 15% 1980-1990 and 10% 1990+.
The village is a very active community with more than 20 groups and societies operating in the village. As well as this web site, the village has a successful village magazine.
Public transport links are good. Because the village is on several bus routes, a bus leaves Crofton for Wakefield every 15 minutes at peak times. Wakefield is a principal station on the Leeds-London line.
The village has two churches. The Church of England, All Saintsí Church is located at the centre of the village and is of a cruciform shape. It was built in the 15th Century. The village also has a Roman Catholic Church, St Josephs, which is operated, as part of a larger church at Durkar, Wakefield.

Map copyright © 1988-2001 Microsoft Corp. and/or its suppliers. All rights reserved. http://www.microsoft.com/mappoint © 2000 Navigation Technologies B.V. and its suppliers All rights reserved. Selected Road Maps © Copyright 2000 by AND International Publishers N.V. All rights reserved. © Crown Copyright 2000. All rights reserved. Licence number 100025500 © Copyright 2000 by whereonearth.com, a subsidiary of InferNet Limited. All rights reserved.